MSE hosts Sustainable Development Minister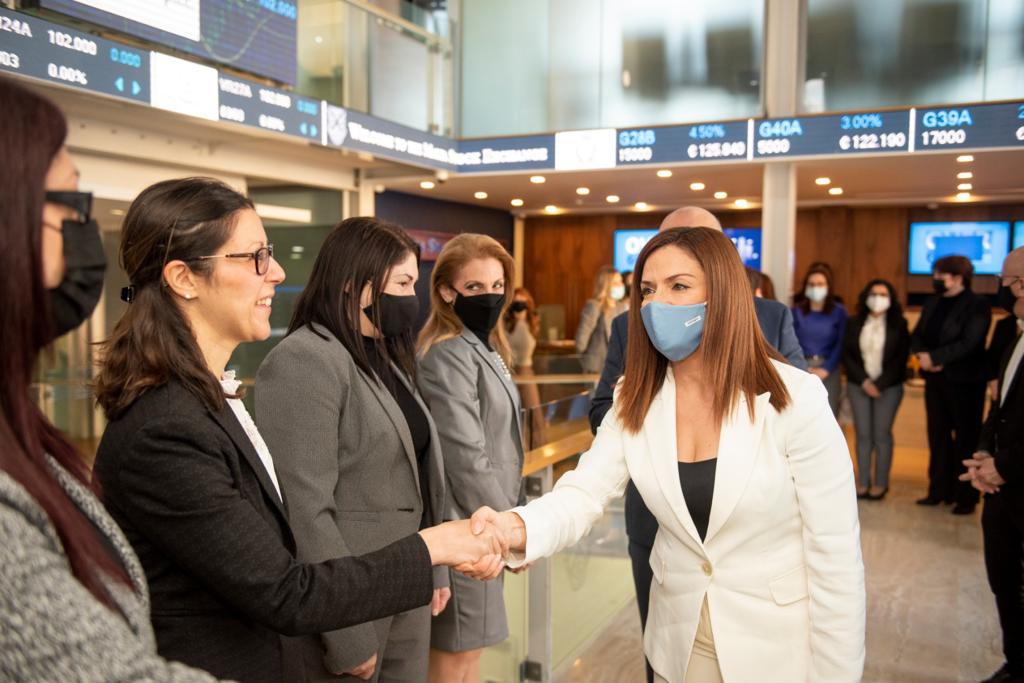 MSE hosts Sustainable Development Minister for bell ringing event to promote 'Gender Equality for a Sustainable Tomorrow'
As a member of the World Federation of Exchanges, the Malta Stock Exchange (MSE) once again held a bell ringing event to mark the International Women's Day and promote gender equality. This year's theme was "Gender Equality for a Sustainable Tomorrow".
The event was held on 8 March and this year's guest speaker was the Minister for Energy, Enterprise and Sustainable Development, the Hon. Dr Miriam Dalli.
In her address, Minister Dalli spoke about the need to build on the improvements in rectifying salary inequalities in local workplaces, especially since companies with a real commitment towards gender diversity produce better shareholder returns compared to others.
Dr Dalli also noted that local companies with a lower gender pay gap than 2 per cent have outperformed the MSE Index and called for a general improvement in board diversity and female representation in senior key management roles.
While mentioning that 70 per cent of the Exchange's workforce is female, Mr Joseph Portelli - Chairman of the MSE, said he understands the challenges women face on a daily basis as they juggle work and family responsibilities more than their male counterparts.
Mr Portelli also noted: "The MSE has implemented its teleworking policy to allow everyone, particularly women, to balance their work and family-related responsibilities. This allows more flexibility at the workplace and will ensure a better quality of life for our employees. Telework has also increased our employees' productivity."
While thanking those present and the MSE for this initiative, Minister Dalli concluded that going forward, gender shall not be the determining factor for women' success at their workplace, the career path they want or the milestones they want to achieve in life.